Post by eternity on Aug 30, 2016 20:39:14 GMT
Download links
Latest dev version (1.0 beta1):
here
.
Latest stable version (0.91):
here
.
Note: the program needs the visual studio 2013 redistributable for x86_64, that you may or may not have already. If when running the exe, you get a "MSVCP120.dll" missing, download
this package
from Microsoft, and choose "vcredist_x64.exe" (
don't go downloading random dll's from random sites, use the Microsoft package!
)
-------
Introduction
Eternity Audio Tool is a program to manipulate CRIWARE .acb files, extract/decode hca tracks from them, and also import/encode wav files (or other hca files) to them. The tool also has a small player to play the tracks directly from the program gui without extracting them. (Note, the player is intended for audio preview purposes, it is not intended to be a serious player).
The program supports the following container formats:
- .acb that have a matching .awb (external .awb) (*)
- Stand alone .acb files.
- Mixed mode .acb. These are .acb files that have both, and internal awb and an external one (and from what I have seen, they contain different sounds). For these files, the program will ask the user in which one to work.
- Standalone .acb files that have been stored inside Unreal Engine 4 .uasset files. (this is the format used in Street Fighter 5). These files have .uasset extension.
- .csb files with a matching .cpk.
- Standalone .csb files.
And the following audio codecs:
- HCA
- ADX (only the most common subset)
- AAX
- CWAV (only dspadpcmm, only decode)
(*) In this program, you don't directly open/save .awb files, you always open/save .acb files. If the acb file has a matching .awb, the program will open/save the .awb in the background too, don't worry about that!
Extracting tracks

Single track extract:
select a track, and click the "Extract" button, which is also available in the right-click menu.
Select the file where to save. Note that although it defaults to .wav extension (decode), you can select .hca extension* (pure extract, no conversion) from the combobox, as illustrated in the image:
(* if the track uses adx or aax codecs, you won't get .hca extension, but .adx or .aax)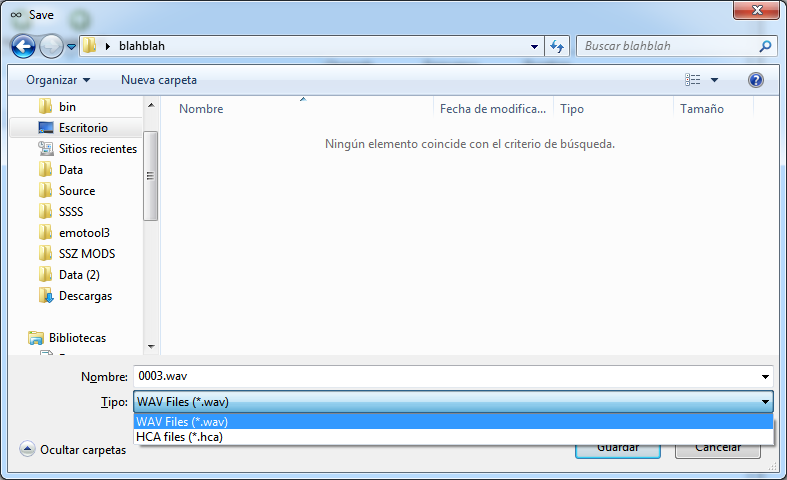 If you are going to extract the tracks for playing, use wav format. If you plan in importing them in another game that uses .hca, please extract them as.hca, as to avoid any quality degradation.
Multiple tracks extract:
there are two ways of multiple extract. By using multiple selection and pressing "Extract", or by using "Extract all" if what you want is to extract all the tracks at once.
In both cases you will be prompted for a directory where to save the files, and after that you will be asked if you want to extract as .wav or .hca.
The files will be extracted with names like these 0001.wav, 0002.wav, etc (or 0001.hca, 0002.hca, etc).
Replacing tracks
Single track replace:
select a track and press the Replace button. Choose a file. Eternity Audio Tool support multiple audio formats thanks to the ffmpeg libraries.
You can also use hca files as input (or adx/aax if the track uses those codecs).
You will be asked if you want to make the file loop.
There are 3 possibilities here:
- If you press Loop, and the check box is checked, if the input file is a wav or hca/adx/aax and already has loop data, that data will be used (the loop may not be neccesarily from beginning to end). Otherwise, the track will be looped, from beginning to end.
If your input file is mp3, ogg, mp4, m4a, etc (anything not wav or hca/adx/aax) the checkbox is ignored, and the track is looped from beginning to end.
- If you press Loop, and the check box is unchecked, the audio will loop from beginning to end.
- If you press "Dont loop", regardless of the checkbox, the files won't loop.
In most cases, you want to use Loop for music, and Don't loop for voice/sound effects.
It is worth to mention too, that at some places, the game may decide to disallow loops and ignore the loop data.
Multiple tracks replace:
use multi selection and "Replace", or "Replace all" to replace all tracks. You will be prompted for a folder. The folder should contain the audio files with names like 0001.wav, 0002.wav (or 0001.hca, 0002.hca; or 0001.mp3, 0002.mp3, or 0001.xxx where xxx is any of the supported file extensions of the program* ), matching the track in the acb. If the folder contains less files than the selection (or that the whole file in the case of "Replace all"), only those files will be replaced.
*Supported file extensions: wav, hca/adx/aax, mp3, ogg, wma, m4a, mp4, flac, fla, mka, m4b, m4r, oga, ogx, mp1, mp2, mpc, mpc8, mpp, mp+, ac3, wv, eac3, dts, adts, aif, aiff, aifc, afc, al, amr, apc, ape, apl, au, daud, caf, siff, snd, spx, svx, 8svx, tta, w64)
After you are done on replacing tracks, remember to use "Save" or "Save as" from the File menu, or your changes won't be saved (you will be warned anyway if you try to leave the program with pending changes). Once the file is saved, the program will reload it.
Remember that if your .acb file had used an external .awb file, the .awb file will be changed too, so you will have to deploy both for your music mod. (If it is a mixed mode one, the .awb will only be modified if you chose external mode when asked).
Configuration
The program have some settings, which are saved into the file "config.ini" in the program directory, but which can also be changed in the gui with edit->options.
Most of the settings don't worth to be changed, and the defaults are pretty ok. The only one most people may want to touch is the quality setting in the encoder, to either target better audio quality or smaller file size.